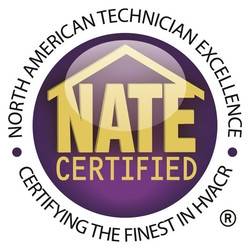 North American Technical Excellence (NATE) Continuing Education Hours
Blue House Energy Courses that qualify for NATE Continuing Education Hours include:


NATE stands for North American Technician Excellence and it's the nation's largest non-profit certification organization for heating, ventilation, air conditioning and refrigeration technicians. NATE is owned, operated, developed and supported by the entire HVAC/R industry and participation is strictly voluntary.
To get your NATE credits, purchase Blue House Energy courses via our industry partner, HVACRedu.net.
Technicians need to complete and submit proof of at least sixteen Continuing Education Hours (CEHs) of training every 2 years, or take the examination again to get re-certified.
CEHs must be relevant to the specialty or in general topics such as safety, electricity, controls, codes and regulations.
Each technician has a personal NATE account called myNATE. Once myNATE is activated, you have access to your training history and CEHs. To ensure accurate recording and faster processing of training documents, NATE recommends uploading proof of training (your Certificate of Achievement issued from Blue House Energy after successful completion of a course).
"Very positive experience with Blue House Energy. I am always looking for ways to increase my knowledge base and find Blue House Energy to be an excellent resource. I highly recommend Blue House Energy to all my friends and co-workers. Keep up the great work."
- Sam S.

NEED YOUR NATE CONTINUING EDUCATION HOURS?
STAY INFORMED, AND STAY CERTIFIED WITH BLUE HOUSE ENERGY.
1.902.821.3090